I seriously think my facebook fans have kept me sane this week. I don't know what I would have done without them! As cheesy as it sounds thank you from the bottom of my heart for taking the time to answer my ? and A's that have helped me have some human connection other than the lady behind the counter at Hobby Lobby or Hancocks this week. It also helps to have the sweetest neighbor right next door, Maryanne, who has girls my age and who loves to humor me by being a sounding board.
I have been working on custom orders this week, with my ipod blasting. I am getting orders out as fast as I possibly can. Please look for some exciting new photos coming soon from Peekaboo Photograph. I seriously am bursting with excitement to reveal them to you!
I have a few patterns/tutorials I am working on the brainstorm / sketching process on. It seems I work best on new projects when I am not working on them.
Tim has been picking up the slack at home and seriously has the kids 24/7 almost right now with exception to their mommy time for a little bit each day. I have to buckle down though. It is good for them to have some daddy time. Hoping to have all custom orders shipped by the 18th.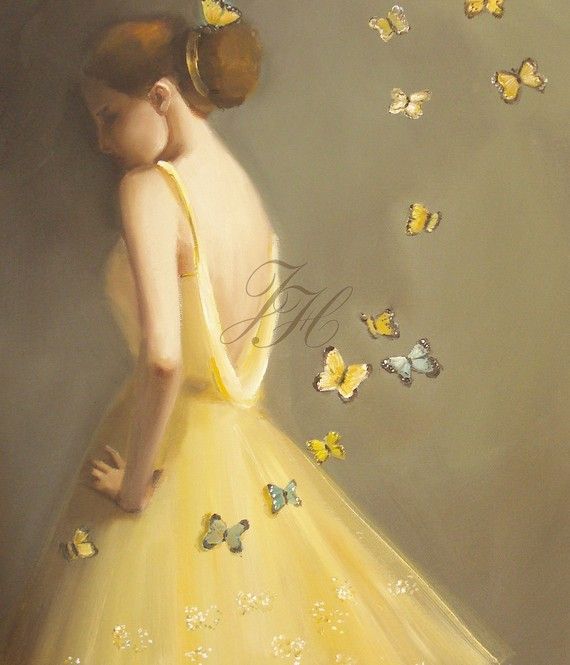 Meanwhile, I wanted to share this image of a gorgeous painting by the amazing Janet Hill Studio. You can find her incredibly feminine art here. I adore how she captures womanhood, unlike any other artist I have ever seen. Her pieces inspire me to push a little harder within. She sells her prints and also if you are fortunate enough you can purchase the originals on her website.
I just love art in all forms. My mom is a painter. My father was a creative collector of historical artifacts. My sister loves to decorate and is an avid collector of so many beautiful things that it would make your head spin. I have a brother, John, that is an incredible pencil artist so much so that his work stops my heart. My brother Aaron loves creative business development and has just the eye small businesses need for success. My husband can smell a cologne and tell you 20 different natural essential oils that were used to make it (crazy eh?) and also creates the greatest spreadsheets for me of all time that I could never have dreamed up. I guess I see life in a new light that whatever your medium whether it be a business plan or watercolors, we are all artists in someway and all connected creatively in someway. Have you ever stared at your children in awe? I sometimes think how God? Hod did you do it? I know the scientific aspect of it but as an artist I recognize art and well my friend the greatest artist of all created my Ava's squishy rosy soft cheeks and my Addy's precious little ruby poised lips. That said to me the greatest works of all time were created out of love. I guess where am I going with this? You girl. Don't give up on yourself when you get down about your business, your creative endeavors. When failure sets in, pick yourself up again and again and never give up because you were created out of love and you are SO loved. Don't let your children say, "can't" and don't get caught up saying it yourself either. That is the four letter word in our house. I can't even stand it. I won't let Ava say it for a second. Why? Because I said it to myself for 30 years. I get a ton of emails from people telling me they are not creative. I honestly get a strong urge to jump on a plane and go meet up at a coffee shop with that girl immediately to talk some sense into her head. What? You aren't creative? I have NO creativity when it comes to styling my kids hair, decorating my house (you would so not be impressed), organizing, the list could go on forever. I really don't focus on those things though. I try to stay focused on the narrow scape of things that I can do. I spent so long doing the opposite that trust me this is the better way and you will find a happy soul and a newfound love for yourself in your quest for finding your creativity.
As a mom of girls, I really want them to pursue their curiousities so that they find their inner creative force that drives them to their passion and that they find what they love to do. Ava already loves to paint. It is insane how much paint is on my office walls right now. I love this book about raising creative children, The Creative Family: How to Encourage Imagination and Nurture Family Connections. This girl directed me to a new path of parenting that has helped me so much in letting go of the control and allowing my children to make huge messes. I don't know about you but my favorite things I ever made caused some huge messes. Today I stumbled upon an article online (click here) that brought me to tears about guiding our children to marvel at life and the world around them.
I appreciate your support of my creative projects more than you could ever imagine. I am home with my children every minute of the day because of you... and well that is where my passion comes...making patterns for women to be able to make and sell so that you can also be there with your little ones.
xoxo
Joy
Love to each of you my sweet friends.
PS Tim hasn't edited this yet so go easy on my grammar.