WINNER
SQUISHYSANDEE, "LOVE YOUR PATTERNS!! I hope I win for my little LilyBelle."
CHOSEN BY RANDOM.ORG
Vintage Christmas Portrait and Holiday Card Giveaway!
This giveaway has everything you need to dress your daughter for her holiday or Christmas portraits and produce stunning Holiday Cards!
I am so ecstatic to bring you such an amazing array of products from such talented and amazing sponsors.
I first discovered Image Garden Designs' work through Peekaboo Photography's blog. I love how serene and elegant Joell's designs are.
Joell was very kind and generous to offer her:
* Holiday & Multipurpose Square & Scalloped Luxe Card Templates. These are just GORGEOUS! They are a unique template collection full of vintage finds and organic textures and color palettes. Includes 6 customizable templates for 5×5 double sided press printed cards.
Includes instructions and font resources and an "add images" action for photoshop. All fonts used are freeware fonts. Known compatible with Photoshop CS2 and higher. You can find these here on her site.
Joell also offers for sale on her website backgrounds, custom blog and web design, custom photoshop brushes and textures, gorgeous paper packs, vintage frame sets, and so much more. She is also a very talented photographer and you can check out her work on her blog here. I could really spend a fortune on her site!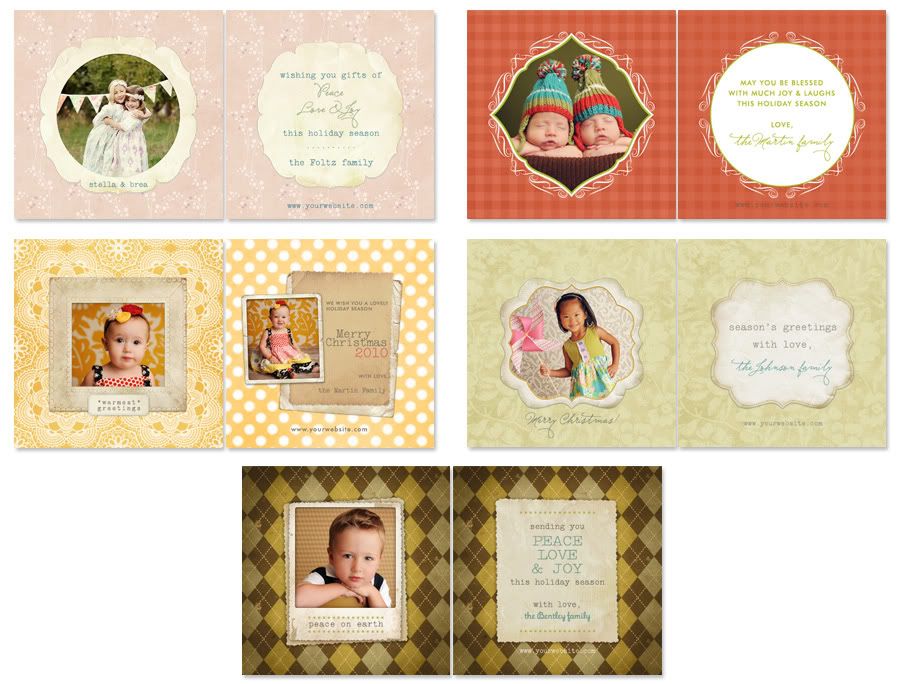 I am also excited to introduce you to A Child's Touch Boutique owned by the very talented and chic Rory Drysdale. I met her through Etsy. She is very passionate about children's clothing and accessories and it shows in her carefully chosen selection of adorable vintage style items on her website.
Rory is so generously giving away the following from her online children's boutique:
* A pair of Lovely Lacy Vintage Leggings that come in sizes 6-12, 12-18, or 18-24 in black, white, and pink. However, they look more like a capri when worn by older girls! I Love these lacy leggings! Aren't they just adorable? You can find them here on her site.
* A pair of these Ivory Rosette Ballet Slippers in any size. These are sweet vintage-inspired, heirloom quality rosette ballet slippers that are perfect for special occasions, portraiture, or for the every day princess that can be found here. These elegant slippers are hand-made of genuine leather with a gorgeous satin rosette and come in infant, toddler, and children's sizing. The winner can choose any size. These tiny little feet happen to belong to Rory's baby girl and were photographed by Skye Johansen.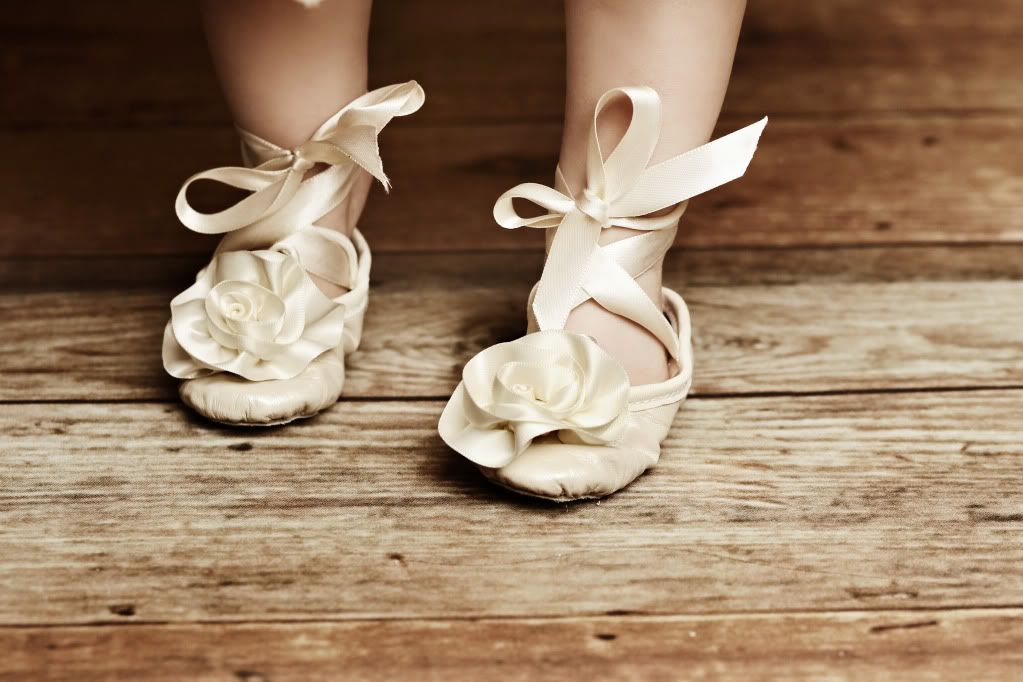 For the first time, I am offering to giveaway:
* A custom made Vintage Ooh La La ACTUAL boutique ruffled skirt (not the pattern) just for your little girl out of any holiday fabrics of your choice in any size (12-24 up to size 6)!
To see more photos you can find the pattern here.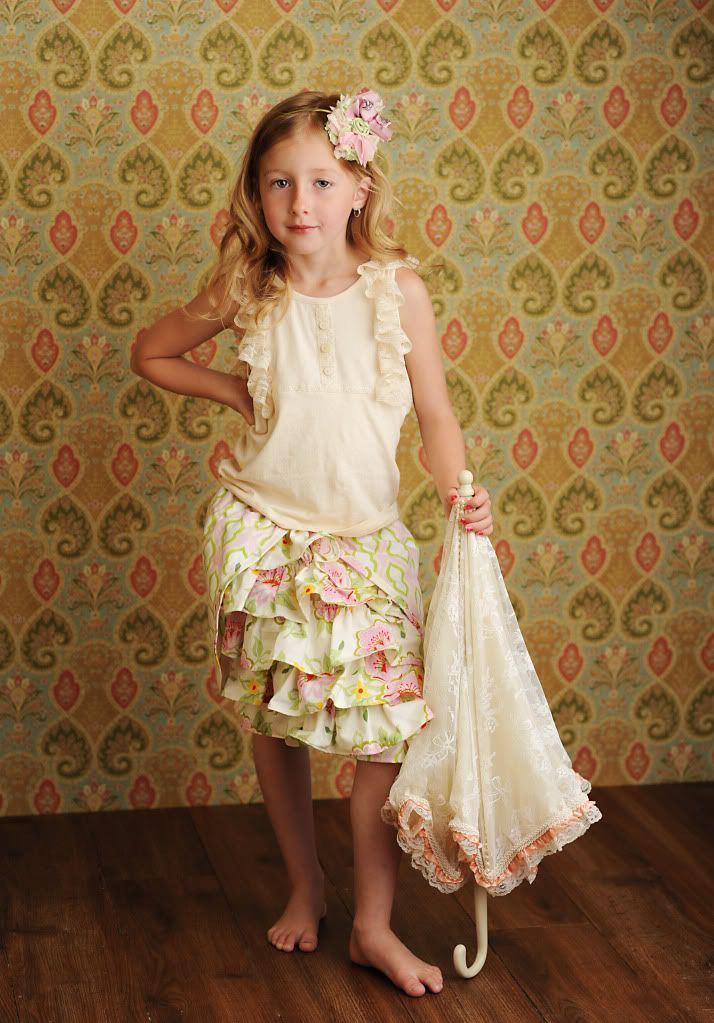 * A custom made Audrey Headband (not the pattern) or Audrey Flower Pin of your choice such as in the photo below to attach to a hat in any size!
To see more photos of the headbands you can find the DIY pattern
here.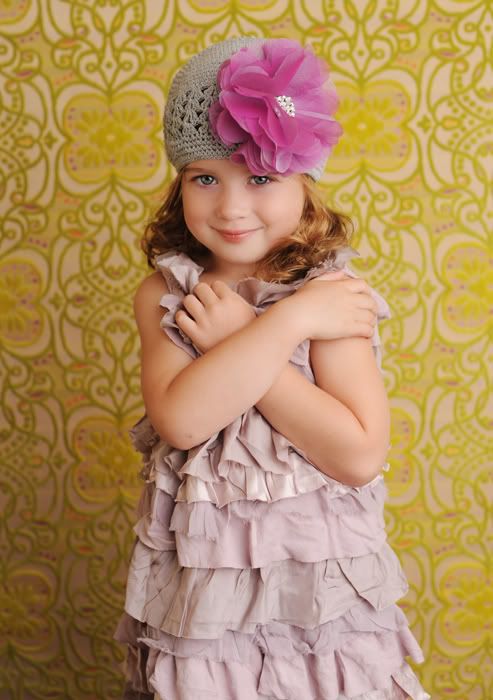 Want to win everything above? You have a total of 4 chances to enter. All you have to do is:
* Leave a comment on this blogpost (counts as one entry)
* Fan SnazzieDrawers on Facebook here.
* Fan Image Garden on Facebook here.
* Fan A Child's Touch Boutique on Facebook here.
Leave some love when you visit their facebook pages!
Giveaway ends Saturday, November 6th at midnight. Winner will be chosen by Random.org.