Juliette La Fleur PDF Pattern Tutorial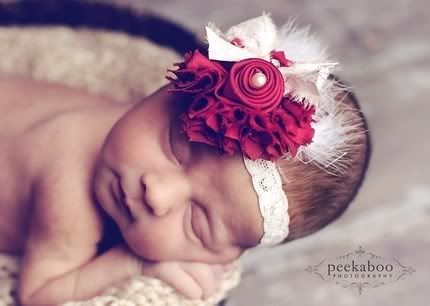 All fabrics can be used to make these!
NO SEWING MACHINE REQUIRED! YOU JUST NEED A NEEDLE AND THREAD! A flower pattern for both the beginner and advanced seamstress.
Includes instructions for adding the Juliette flower to a headband!
19 pages of color photos and concise, clear, step-by-step instructions
The possibilities are endless for using these flowers. They can be made in any size and would be great for:
* Valentine's Day gifts for teachers, friends, coworkers, etc.
* Make your flower into a brooch
* Baby or toddler's headbands or hair clippies
* Adult hair pieces or headbands
* Statement Bib necklaces
* Sewn onto a shirt around the neckline
* Sewn onto the waist of a dress or skirt
* Make a bodice and hand sew flowers all over it for a little girl
* Sewn on little girl's ruffled pants
* Wedding bouquets, table centerpieces, or corsages
* Wedding favors for your guests
* Wedding kissing balls
* Wedding dress embellishment
* Ring bearer pillow
* Wedding chair cover or pew embellishments
* Flower girl's bouquet
* Reception decor
* Flower girl's dress embellishment
* Home decor sewn onto a pillow, drapes, canvas wall hanging, throw, fancy towels, etc.
* Photographer's props for children, still art, or commercial photography
* Prom dress embellishment
* Handbag, purse, or wallet embellishment